Celebrity Culture:
Lilly Singh came out kicking her first night as the ONLY woman late-night host on TV rn. Don't know who Lilly is? That's cool, you're probably not a YouTube youth. Since 2010, Lilly has gone by IISuperwomanII on the free video platform, posting vlogs and satire videos like How Girls Get Ready, which has 29 million views. NBD. In 2017, she came in 10th on Forbes' list of the highest-paid YouTube stars, reportedly raking in $10.5 million. Now, she's taking over late night at NBC right after Seth Meyers.
Get your Stefon voice ready because this show has everything, especially if you're a card-carrying member of Gen Z. Here's every reason you need to watch A Little Late With Lilly Singh, based on episode 1.
The obligatory opening musical number
Someone's auditioning to host the Oscars, because Lilly's opener pulled about zero punches. Lilly—who jokes she might as well change her name to Bisexual Woman of Color—steps into a meeting about her show with…all-white male execs. It doesn't go great.
"I'm not sure I related to 10 seasons of Friends"…bish went there.
Oh, you thought it was going to be Broadway style, like James Cordon? Nah.
We stan a guest from The Office. Lilly got two.
For some reason—*cough* Netflix *cough*—America's favorite sitcom from 2005 is the height of binge culture for teens across the United States. Just ask Billie Eilish.
So who better to congratulate the queen of the youths (even though she's 30 years old) than Rainn Wilson and his "white noise" machine? Don't ask, just watch the clip:
But wait, her first official guest turned out to be none other than Kelly Kapoor herself: Mindy Kaling. She even shared how she'd update The Office for 2019.
Basically, Michael would try to dab and leave a lot of thirsty comments on celeb Instagrams. But more on Mindy later.
The feels.
Okay, more on Mindy right now, actually. Lilly is an Indian Canadian woman hosting a late-night show. Meanwhile, Mindy, an Indian American icon, just wrote and starred in Late Night, a movie about a woman comedian struggling to keep her place in the world of…you guessed it…late-night television. Cue a lot of "proud of you" vibes flying from each of them. But Mindy and Lilly weren't the only ones getting emotional.

All over Twitter, people were sharing how meaningful it was to see Lilly thriving in her 1:30 a.m. slot.
Two words: Euphoria makeup
But back to the show. You know how Jimmy Fallon is known for his celebrity games? Me either, because Lilly had a Euphoria makeup battle against Mindy and we're all the winners.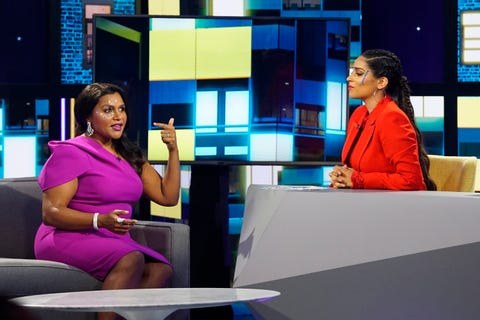 NBC
Make it an hour, you cowards!
Emily Tannenbaum
Entertainment Editor
Emily is the entertainment editor at Cosmopolitan, which is a nice way of saying she watches way too much TV and constantly wants to tell you about it.