Celebrity Fashion:
And no — they don't all involve smoky eyes.
The summer of 2019 was a big one for makeup. It saw the rise and complete infiltration of neon-lined eyes and pastel-painted lids à la HBO's "Euphoria," wet-looking lips and even actual embellishments (see: teeny star and pearl decals around the eyes). And while the transition into cooler months typically means trading in the light, experimental and glow-y looks of summer for the standard smoky eyes and dark lips, this fall is certainly shaping up differently.
To prove it, we tapped a handful of industry experts to weigh-in on fresh, not-so-obvious makeup looks for fall that are easy enough for even the most novice of makeup lovers to pull together in little time. Whether they work on the faces of celebrities, or models in the pages of magazines, these makeup artists agree that much like summer, there is plenty of room to play around and push the boundaries with autumn glam.
Instead of automatically associating the return of chunky sweaters and tall boots with moodier, neutral palettes and heavy metals, this new season calls for a more open mind — leaning into bold, in-your-face blues and greens, soft cinnamon and honey-kissed finishes and full monochromatic looks that will inevitably end up in Instagram #saved folders for inspiration through the holidays and beyond.
Scroll through below and take notes on the seven custom-created looks below, utilizing just three products each to try on your eyes, lips and cheeks.
Moody Blues + Brown Lips
"We usually don't see blue as a fall color, which is precisely why I love this look — it feels so fresh," says New York City-based makeup artist Mollie Gloss. "The inevitable coolness of the Pat McGrath shadows play off of the deeper brown lip from Nars — which Gloss swears is perfect for fall, noting that it can be worn full color or blotted onto the lips for a subtle brick brown tint. As for the light powder from Hourglass? "For fair skin, it gives a warmth that's the perfect transition product to take you out of bronzer season, and for deep skin, it's a gorgeous soft highlight that won't look ashy."
Red Lips + Bronze Glow
According to makeup Taylor Simpson, winged eyeliner, fresh skin and red lips are the perfect way to transition your summer glow into autumnal territory. "Red lipstick makes a statement on its own, so it's recommended to keep the eyes and skin simple so that it doesn't compete," explains Simpson. "Winged liner can be as extreme or subtle as you'd like, so using a flex-tip eyeliner like Fenty Beauty's Flyliner makes it easy to control each stroke. Finish off the look by dusting highlighter over the high points of the face (the cheekbones, bridge of the nose, brow bones and cupid's bow).
10-Minute Smoky Eye
For those who prefer a classic look, Simpson suggests a neutral smoky eye for fall. "Urban Decay's Naked Honey Palette reflects the best of the season's gorgeous range of colors. Use warm browns in the crease of the eyes with shimmery gold tones on the lid," she advises. Finish the look with rosy, flushed cheeks and glossy lips for a soft combination that couldn't be more on-trend. "This simple look can be achieved 10 minutes or less and will become your new fall go-to."
available here.

" data-full-height="1320″ data-full-src="https://fashionista.com/.image/c_limit%2Ccs_srgb%2Ch_2000%2Cq_auto:good%2Cw_2000/MTY3NDk1ODA3NTc3MTA2MzE4/urban-decay-naked-honey-palette.png" data-full-width="1322″ data-image-id="ci0253108ce0002587″ data-image-slug="urban-decay-naked-honey-palette" data-public-id="MTY3NDk1ODA3NTc3MTA2MzE4″>
available here.

" data-full-height="500″ data-full-src="https://fashionista.com/.image/c_limit%2Ccs_srgb%2Cfl_progressive%2Ch_2000%2Cq_auto:good%2Cw_2000/MTY3NDk1ODA3MzA4NjcwMzQz/charlotte-tilbury-cheek-to-chic.jpg" data-full-width="500″ data-image-id="ci0253108cc000278e" data-image-slug="charlotte-tilbury-cheek-to-chic" data-public-id="MTY3NDk1ODA3MzA4NjcwMzQz">
available here.

" data-full-height="1132″ data-full-src="https://fashionista.com/.image/c_limit%2Ccs_srgb%2Ch_2000%2Cq_auto:good%2Cw_2000/MTY3NDk1ODA3MzA4NjcwODYy/pat-mcgrath-labs-lust.png" data-full-width="1210″ data-image-id="ci0253108cd0002587″ data-image-slug="pat-mcgrath-labs-lust" data-public-id="MTY3NDk1ODA3MzA4NjcwODYy" data-title="">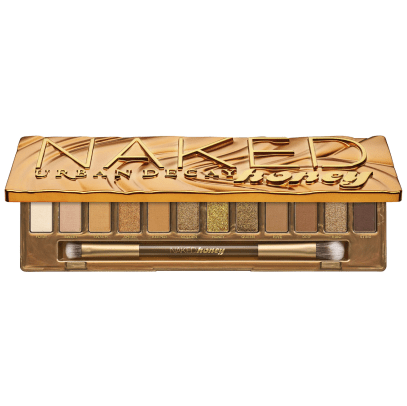 Terracotta Monochrome
"Fall makeup doesn't have to be dark and dramatic," says Ash Holm, a Los Angeles-based celebrity makeup artist whose clients include Kris Jenner, Khloé and Kim Kardashian and Camila Cabello. "One of my favorite looks for fall is focusing on soft terracotta eyes and cheeks paired with a bold lip," she says. To achieve that, Holm suggests sweeping a touch of warm blush over the apples of the cheeks and eyes for a warm monochromatic look, then patting highlighter on the inner corners of the eyes and tops of cheeks. "Top this look off with a rich burgundy lip by dabbing the lipstick in the center of your lips and blotting it off with a tissue for a more natural lived-in bold lip," she suggests.
Smudge-y Winged Liner
If you don't want to go too far out of the box, Holm explains that a not-so-perfect smudged winged liner is never a bad idea for the season. "A wing liner can be really intimidating, but with the right tools and technique, anyone can do it. Instead of lining the entire eye, try only lining your eyes halfway, utilizing the felt tip applicator to angle the wing upward."
Pumpkin-Spice Tones
"Orange-y browns can be super flattering and feel naturally fall," says Kelli J. Bartlett, who is a makeup artist and serves as Glamsquad's artistic director. To achieve the pumpkin spice-inspired look, she suggests going for a warm, brownish-orange on th